Laminate Flooring Reviews, Not All Are Created Equal
Laminate flooring reviews, I have been wanting to write about this for some time now. I have been installing laminate flooring since 2001, and have had a chance to see many brands. I have searched the internet to find honest reviews on laminate flooring, all I seem to find is just very general descriptions basically saying that they are all the same. Well I know better. With laminate flooring there is such a thing as "The Good the Bad and the Ugly".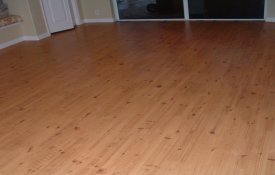 When I worked for a retail store I realized that at times I was installing lets say, Really Junky Laminate. But what can I say when I'm working for a store. If I said anything I would loose my job. But now I work for myself and can say what I honestly think.
There are floors I will recommend any chance I get. And then there are the ones I want to run away from. I love installing a good quality laminate floor, it makes me look good. I see first hand how the floor looks close up. Maybe what I see and my customer sees may be different, even so you still want a floor that is made well so it will continue to look new 5 years from now.
I can't say that my laminate flooring reviews are the final word on any product. I base my reviews on me as a professional installer. I am a little particular with my work and I would not recommend a product if I wouldn't put it in my own home.
These days there are so many variations of laminate flooring being produced. I see different brands popping up all the time. They all have there locking system which may be their own or they use one from another company that has a patent on it.
Its also made in alot of different countries.
---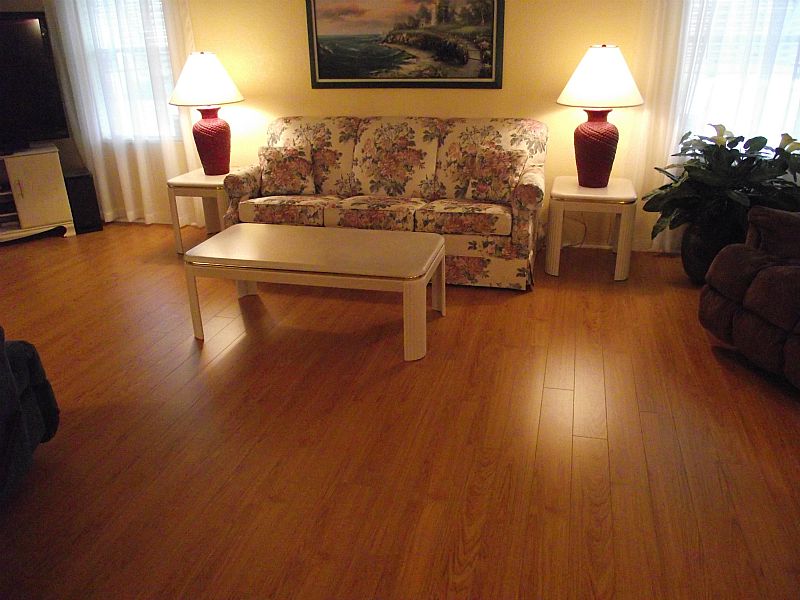 I have seen laminate floors that were just flat out bad as far as quality goes, but the homeowner thought it was great. Well as an installer and having installed thousands of square feet of numerous brands I would hope that my opinion will count for something.
Some folks may not realize that laminate flooring can vary in quality and price to such a degree. There are a lot of folks that do realize this and do the research necessary, so they can track down the best quality and price on laminate flooring.
So hopefully the laminate flooring reviews I have written here will shed some light on you making a decision that will help you save some money and aggravation.The list of all my reviews are at the bottom of this page.
---
My Rating System For Laminate flooring And Floating Wood Flooring

There are several ways that I rate laminate flooring
Number one is the ease of actually connecting the boards together.This can make a big difference.

How smooth the joints are. The nickel test: slide a nickel across the floor, you don't want to hear click click click.

How strong the core is, this can determine how easy a board can be damaged in shipping.

The machining of the joints themselves. if they are not made exactly right it can be a little more difficult to work with.

And how much damaged product there is after receiving your flooring.

The overall look of the finished floor.



My Laminate Flooring Reviews
Below
The laminate flooring reviews I am writing are based on the floors I have personally installed. There may be additional products from a manufacturer that may be a different quality (better or worse) from the one I have installed. I haven't installed every brand of laminate floor on the market, so all I can do is report on the ones I have worked with.
Add Your own reviews about any laminate flooring.
All reviews from you folks out there could help other people make a right decision when they are faced with picking the right one.
What Other Visitors Have Said
Click below to see contributions from other visitors to this page...

Home Depot home decorators collection, autumn hickory

This stuff is the worst laminate flooring out there. It is not a good system. No matter what I did I ended up with sections that would not attach properly …

Lumber Liquidators St James Laminate flooring

ONE READER WROTE: I went to Lumber Liquidators and bought their St James brand, but after many, many tries covering the same space over and over again, …
Roth and Allen. Crap flooring Not rated yet
I had 44 boxes of Roth and Allen installed into a 300K condo with only 2 people living here and a little 9lb dog. The floor performs terribly and a rep …
         Lumber Liquidators Nirvana Plus Laminate Review
Return to Home Page From Laminate Flooring Reviews 
LAMINATE MANUFACTURERS AND RETAILERS