Kensington Manor Dream

home Review
This Kensington Manor Dream Home review is a good one. I have installed some of the Dream Home laminate flooring products before and this one is the best. This Kensington Manor line from Lumber Liquidators was actually a pleasure to install. It was east to connect the planks and I did not find any bad connections between planks.
This laminate is 12mm thick with a 3mm attached padding. It has a AC3 rating (AC5 being the best) which is good for residential use. The cost was around 2.79 a foot give or take, as of the forth quarter of 2013. You can check the Lumber Liquidators website for exact prices. As of this time Lumber Liquidators shows 17 different color in this line. If I needed laminate flooring at this time I would consider Kensington Manor.

The color I installed is High Sholes Hickory. The surface is a hand hewn texture with a  V-groove edge. It has a 30 year warranty also.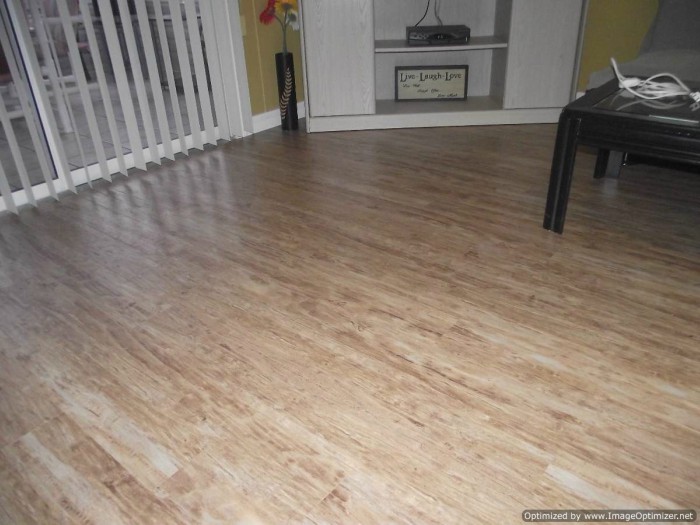 The locking system was KEY with this laminate. It allowed me to tap the planks together while laying flat next to each other. This makes it a lot easier when installing under door jambs.

The thickness of this gives a nice solid feel when walked on.
CLICK ON PHOTOS TO ENLARGE

These photos above are close ups of the Kensington Manor locking system. This particular locking system was easy to work with. You can also see the texture close up

Take an extra 10% off clearance flooring! Use code EXTRA10. Valid 10/15-10/19.
Lumber Liquidators
Installing Kensington Manor
Laminate Under Door Jamb
This is an example of being able to tap the boards together while laying flat side by side. It would be very difficult to install this cut board under the door jamb with the rest of the floor installed up to it.
This is why I leave the other boards uninstalled. I cut all the boards first and then install them all at once.

Here you can see where all the boards are layed in place. After sliding the cut board under the door jamb I lay all the rest in place as close to each other as possible.
Using both the tapping block and the pull bar I tap (or bang) all the planks together. Starting at one end and work to the other. Tap the end joints together last.

 This video shows how I install this laminate. Its the type where you connect the long side first and then tap the end joints together. Other locking systems have a drop and lock method. While others only lock while at a tilt.

Its not the best filming, as a I work alone most of the time.

This laminate felt very tough and durable.

Write anything about Kensington Manor Laminate
If you or anyone you know has had anything to do with Kensington Manor laminate flooring from Lumber Liquidators, it would be helpful for all the readers to know anything good or bad about this product. Feel free to report on this product. Thank You