Quick Step Home Sound Blonde Maple laminate Review
This is my Quick Step Home Sound Blonde Maple laminate review, based on the installation in a mobile home in the kitchen and hallway. Quick Step makes Home Sound and Home. The Home Sound has a padding attached to the back and the Home series does not.
Quick Step Home Sound is 7mm thick with a 2 mm attached underlayment. As usual Quick Step made a quality product again with this product. For a 7mm laminate Home sound is easy to install, due to the Uniclic locking system and the joints fit together tight and flush.
This laminate is a 2 strip pattern. The cost should be less than two dollars a square foot. Keep in mind that the attached padding cuts down on the total cost. Buying the padding separate can cost anywhere from .25 cents a foot for the cheap stuff up to over .50 cents a foot for the better padding.
This laminate I installed is a 2 strip pattern. Its made in the 2 strip or 3 strip planks. Its available in ten colors.
The other nine colors as of Dec.2012 are:
Brazilian Cherry, Darker red brown
Butterscotch Oak, Light orangie color
Dark Acacia, Darker gray tones
Terra Merbau, Medium variable browns
Russet Cherry, Medium brown
Panga Panga, Darker browns variations
Ginger Oak, Medium brown
Spice Oak, Medium browns wood grainy
Sunset Oak, Light brown wood grainy
This particular color is a light wood with variation from light to a medium brown. Its not your ordinary wood grain design.
This is the kitchen we installed it in. We used matching quarter round around the walls. The laminate is installed under the frig and stove. I also install the laminate under the front legs of the dishwasher just in case it ever has to be removed.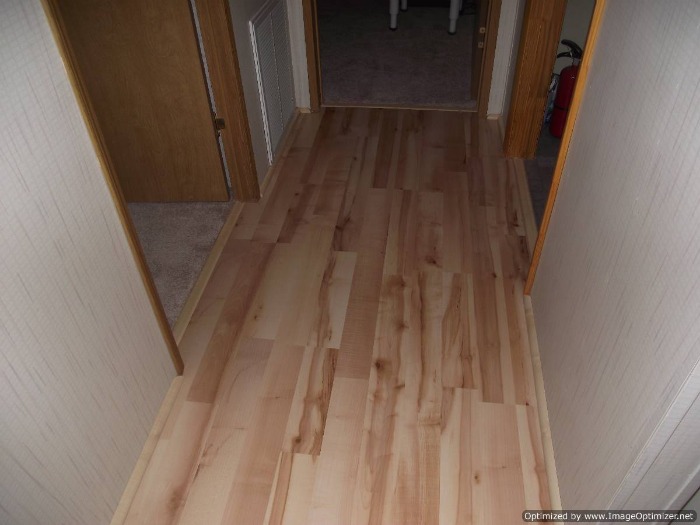 We also installed it down the hall way and stopped it at the bedroom doors at the carpet, using a square edge transition.
This is a problem free laminate, mainly because of the locking system. I recommend this flooring if your looking for a lower cost laminate. If your installing in kitchens or hallways, it is easier because of the Uniclic locking system.
The joints always go together flush and tight. I always attach the long side joint first and then tap the end joints together with a tapping block. When tapping the end joints together you don't want to hit the block too hard. Hitting it too hard can make the end joints peak up a little.



Return to Laminate Flooring Review Page From Quick Step Home Sound Blonde Maple laminate Review Page
Return to Home Page