Laminate tile flooring is designed to imitate ceramic tile, natural stone and even brick patterns. Laminate tile looks like the real thing without the problems associated with real grout. They are manufactured in squares or planks.
Installing laminate tile is not the same as installing the wood look laminate. You have to be careful when measuring because the waste can add up quicker. The laminate tiles that have patterns will dictate where you start. And the pieces you cut off on the end may not be usable to start a new row. I have installed the tile look laminate flooring mostly in kitchens and bathrooms.
Tile look laminate flooring is more complicated to install for a couple of different reasons. Installing the tiles requires measuring every time you start a new row when you choose to install it with the stagger pattern. And installing it in a grid pattern can be tricky also.

If you install the tiles in a grid pattern where all four corners meet, you need to be extremely careful that both rows are straight. Otherwise when the tiles are tapped together and a corner is sticking out the corner will get chipped.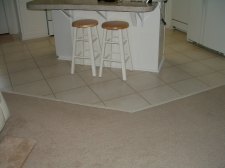 The laminate tile I installed in this kitchen looks like real ceramic tile. I installed it in a grid pattern. Click to enlarge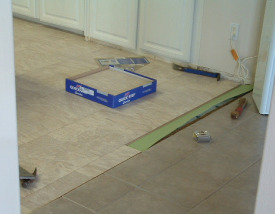 In this photo to the left is an example. This is where I'm ending the kitchen flooring, as you can see I'm not using much off the last piece. I could have started with a smaller piece on the other side of the kitchen but it looked a lot better starting in front of the sink with a full tile.
This particular flooring is Quick step 16 X 16 slate look tile.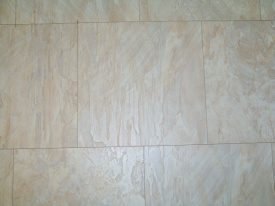 Here is a better photo of the Quick step slate flooring. Click on photo to see larger image in new tab. I installed this floor in the stagger pattern.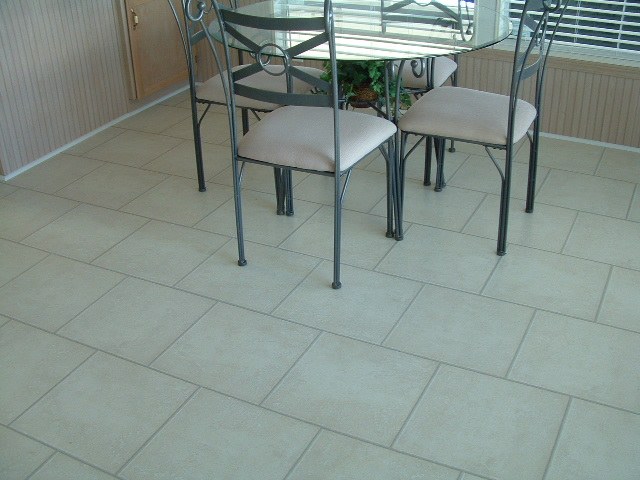 ---