Here is my Columbia laminate flooring review, a domestic manufacturer of solid and engineered hardwood, and laminate flooring. Columbia laminate flooring is owned by Mohawk® Industries.
Columbia produces ten different styles of laminate flooring. Eight of them are the wood planks, the other two are laminate tiles, in patterns of slate and ceramic.
The least expensive is the Columbia Clicette. The Clicette uasally costs between one to two dollars.
I have installed a lot of this product with very little problems. The ease of putting the boards together makes it a pleasure to work with.
The Uniclic locking system is what makes Columbia laminate flooring easy to install.
I have worked with their 7mm (Columbia clicette) and the 8mm (Columbia clic). The quality is consistent between the two.
I recommend this product to anyone in the market for laminate flooring. Especially for the do it yourselfer.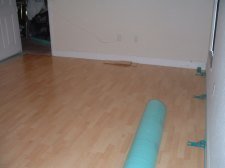 Here in this photo is Columbia, color : Maine maple. This is the Clicette series.
Return to Laminate Review Page From Columbia Review Page