Detailed Instructions For Laminate Flooring Installation For The Do It Yourself
Laminate flooring installation is not always that easy. I have laid a lot of laminate flooring and even today some jobs take some extra time in planning.
Laminate flooring installed the proper way can be very pleasing to look at. For my readers who choose to take on the task, I think they should have all the information he/she can find.
On this website I want my readers to be aware of the many potential problems you may encounter with laminate flooring installation, and how to correct them so your floor will look like a professional installer did it.
There are quite a few topics that I cover here. Such as calculating how much product you need, preparation, transitions, cutting door jambs, where to start, starting first row, corners, angles, quarter round, last row and other useful topics also.
Questions you may be asking yourself
Whats the easiest laminate for me to install?
Are some laminates better than others?
(Step by step links at the bottom of this page)

JUST ONE POTENTIAL PROBLEM
This is just one example of a hidden problem that you may not see until you have removed the old carpet. The laminate floor being a different height from the tile floor it is transitioning to.
In this photo is a small piece of the transition molding, it would be incorrect to install it in this manner to cover this space.
What you want is for the mold to set level here and this will eliminate you having to redo it in the future. I see this a lot on jobs I do.


In this next photo I have modified the molding to fit correctly. This mold will be glued to the tile and the laminate flooring. I use a strong construction adhesive on the tile and a laminate sealant on the laminate.
I'll show you how to install transitions on uneven surfaces.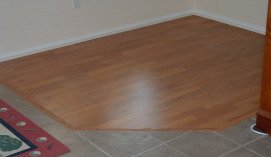 There are many things like this if not done properly can take away from the overall look of your floor.
I want my readers to be able to install your floors so you achieve the very best results possible.
LETS INSTALL YOUR LAMINATE FLOORING
Laminate flooring installation from beginning to end
Naturally the first thing you need to know is the amount of flooring, underlayment and how many transitions and what types you will need. Also acclimating laminate and Checking for damage.
The Best Way To Calculate Area Needed


Determine which types of transition molds you will need and how much.
Transition molds which type and how much


Measuring for base board and quarter round, and how to remove.
Measuring Baseboard and 1/4 round
Now that you know the amount of materials you need, its time to get our hands dirty. Lets see how much prep we need to do.
Preparation, not so much fun
Installing laminate up to sliding glass doors can be difficult at times. All sliding doors are not the same and may require some preparation.
Installing Laminate at Sliding Glass Doors, Preparation
Cutting the door jambs right can make such a big difference in the appearance of your new floors.
Under Cutting Door Jambs
Sooner or later you will encounter angles. Here is an easy way to figure the angle to cut when installing your laminate flooring.
Installing Laminate Cutting Angles
Now its time to lay some flooring, getting started. The lay out and scribing the starting wall.
Starting the Laminate Installation
When installing laminate flooring there will be times when you need to cut a plank to fit around a corner. This is the easiest way I found to do this.
Cutting Laminate Around Corners
Getting the first row of laminate installed is crucial to how the finished floor will look.
Installing the first row of laminate flooring
Installing the last row of laminate requires measuring the laminate so you maintain the correct expansion gap along the wall.
Installing the Last Row Of Laminate
---
If you want an estimate, you can contact me if your in my area. My service area includes the greater Tampa Bay Area, Florida, 33542 also other areas in Hillsborough County Fl, Pasco County Fl, and Polk County Fl.
Phone number 813-713-1535
Anthony Garrison
---