Quick Step Quadra Laminate Tile Review
This is my Quick Step Quadra laminate tile review, it is one of the best laminate tiles on the market. The Quadra collection is available in the ceramic tile look and the natural slate stone look. Each tile measures 15 1/2 inchs square. The ceramic tile is available in 3 colors. The natural stone is available in 12 colors. Every time I install this product I am very pleased with the end result. It is more complicated to install compared to regular laminate planks. I have installed Quick step laminate tile mainly in kitchens and bathrooms.
I have also installed laminate tile that comes in planks. They can measure 16 by 36 inches.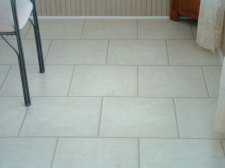 The laminate tile in these first two photos were installed using the stagger joint. I prefer to install it this way so I don't have four corners meeting in one place. When installing it in the grid pattern it takes more time, and you have to be careful where all four corners meet. The four corners have to line up perfectly, if not you take the chance of chipping a corner when tapping the tiles together.

The core material is very strong, its hard to damage when working with it. The locking system makes it easy to connect the tiles together. No tilting hereThe exact size of Quick step laminate tile ensures that every tile I install is going to fit exactly together. It uses the same Uniclic locking system as the Quick step planks so connecting the tiles together is trouble free.
The joints are flush and tight.
There was virtually no damage to the product during shipping.
Over all this flooring is very pleasing to the eye to look at. It looks so much like the real thing.
I highly recommend this product to anyone that wants the tile look.
Return to Laminate Review Page From Quick Step Quadra Laminate Tile Review Page
Return to Home Page