Swiftlock Plus Laminate Review
This Swiftlock Plus laminate review is based on me installing 740 square feet recently. This particular product was purchased at Lowes. Swiftlock is made by Armstrong exclusively for Lowes. The cost for Swiftlock Plus laminate at Lowes is about 2.29 per square foot. This laminate has the underlayment attached to the bottom which helps cut down on the overall cost. But if your installing your laminate over a concrete sub floor you will need to purchase a moisture barrier. The moisture barrier is basically a large sheet of plastic that you lay out before installing the laminate. You need to overlap the edges 8 inches or tape them together.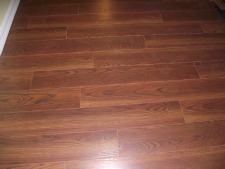 The color I installed is EastPort Oak Auburn.
The Plank sizes are 47.6 inches long by 6.1 inches wide. Each carton contains 12.11 square feet. 6 planks per carton.
All 4 sides of each plank are beveled. This gives it a look of real wood flooring.
The thickness is 8MM with an additional attached padding of 2.2MM for a total thickness of 10.2MM
Swiftlock Plus carries a 30 year residential warranty.
The AC 3 rating makes it a durable floor for residential use.


Swiftlock Plus Laminate Review, My Opinion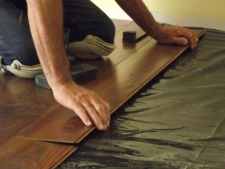 To be honest with you as a laminate installer, this Swiftlock Plus laminate was not the easiest product to install. The locking system will not let you lay the planks side by side and tap them together. You have to tilt the long side up at about 35 to 45 degrees to engage and then push it down flat. I still had to use my tapping block and tap the sides together while the plank was tilted, not every time but quite often.


The other issue I had while installing this laminate was tapping the end joints together. After locking the long side together the next step was to tap the short ends together. Now when doing this I had to really hit my tapping block hard, and what this did was to cause the adjoining row that was already installed to move in the opposite direction.
So the prevent this from happening I wold have to make sure the adjoining row was wedged at each end so it would not move. This all results in extra time and effort.


My Overall Rating For Swiftlock Plus Laminate
Overall I have mixed feelings about Swiftlock Plus laminate flooring. On one hand the finished floor looked really nice and the surface seems very durable. The beveled edges and the texture of the laminate resembles real hardwood floors.
On the other hand the installation side of it would be a bit difficult for the typical do it yourselfer. I used adjustable end clamps that helped a lot to hold the floor in place when having to tap the end joints in. I had to tap rather hard and this will cause the whole floor to shift around.



Return to Laminate Flooring Reviews Page From Swiftlock Plus Laminate Review Page
Return to Home Page