Knowing where to end laminate at doorways is important for the over all look of your finished floors.
For instance you don't want carpet from a room to show from the laminate side when the door is closed.
As a rule you want the laminate transition to be directly under the door when the door is closed. This way you do not see the carpet from the laminate side and you don't see the laminate from carpet side.
When installing laminate in hallways it is a good idea to mark all the doorways before you start the installation. This way there is no guess work when installing up to them.
There are different types of floors where the laminate will end up to. Such as ceramic tile, carpet, vinyl and marble thresholds that may be present at bathroom doorways. You will need a different type of transition for each of these different types of floors.
One of the best ways to determine where to stop the laminate flooring at doorways is to use a small piece as a guide. I place the small piece at each side of the doorway where the door will be when it is closed. I make a mark on each side and then draw a line from side to side.
When doing this you need to leave expansion so the transition does not butt up to the edge of the laminate, about 1/4 inch.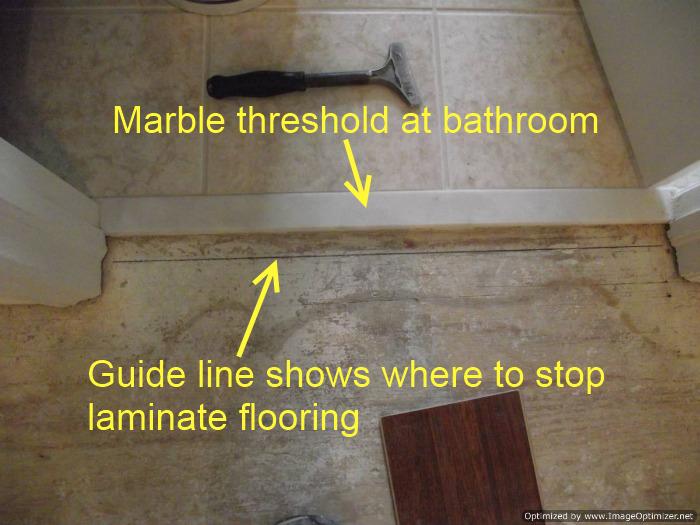 I use a small piece of square edge transition as a guide so I can draw the line that tells me where to stop the laminate flooring. The square edge transition will butt up against a marble threshold at the bathroom doorway, since the threshold is too high to use a T-mold. This is the best way when the adjoining flooring is too high.


Return to Installing Laminate Flooring in Hallways Page From Where to End Laminate at Doorways Page


Return to Home Page From Where to End Laminate at Doorways Page