emoze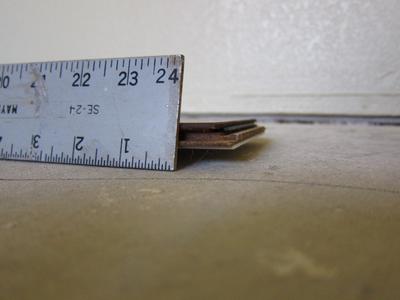 Pergo XP bowed badly
2 separate 20 box orders of 10mm Pergo XP from HD Feb 2015 - more than half the planks were notably bowed end-to-end; see picture; no way it will lay flat; then dug into the cartons halfway & find planks with chewed up edges - this stuff is a disaster; terrible quality control; it went back for refund both times


first picture shows how far off level it was bowed
. never take it home until you open & inspect ALL the boxes in the store
Hi Emoze
It is unfortunate that some batches of laminate flooring are messed up. I have seen my share of poor quality control, and believe me it is maddening.
Sometimes the pallets get rammed with the forklift or just dropped.
I had planks of a different brand that were bowed along the long side also. That's when I talked to the Rep of that manufacturer in a heated manner I might add. He told me to send the curved planks to him so they can see what they were doing wrong.
I said it isn't my job to help them do their job right. In other words they need to do it right the first time or get out of the business.
Anyway I hope you find the right laminate so you can get your floors done.
Anthony Garrison