Quick Step Perspective Review
This is my Quick Step Perspective review. I installed this product in a home for one of my clients. This particular laminate flooring is top quality. As I say with all the products that use the Uniclic locking system, its easy to install.
The style of this laminate has a formal feel to it. With the deep V-groove beveled edge. The planks stand out more and look like a solid hardwood board.
This floor I installed is Brazilian Cherry, there is some variation in color as you can see in this photo.
CLICK ON PHOTO TO GET A BETTER LOOK

It has a limited lifetime residential warranty, with a AC4 wear rating. AC5 is the best.
It is 9.5mm Thick.
Each plank is 54-11/32" long by 6-1/8" wide.
The cost is a little high, it can cost in the mid 3 dollar range. This price is based on what I'm seeing on the internet. Buying local at a flooring store may be higher. I think it cost a little more because it is a name brand. It is money well spent as there is no issues with this brand.
I would definitely recommend this laminate to anyone considering it.
As of May 2012 it comes in six colors.
Ansel Oak
This is a lighter golden brown color.
Santos Mahogany
This is a medium brown color with a lot of woodgrain.
Versailles Light Plank
This color is kind of rustic with a lighter background and dark woodgrain highlights.
Versailles Dark Planks
This is a darker brown with a kind of rustic look.
Wenge
This color has a black look to it. With a lot of woodgrain. I guess you could consider it almost a black laminate.
---
Photos of Installed Perspective Laminate
All these photos are Quick Step Perspective Brazilian Cherry.
Here you can see the color and how the grooves are highlighted by the light.

CLICK ON PHOTOS TO ENLARGE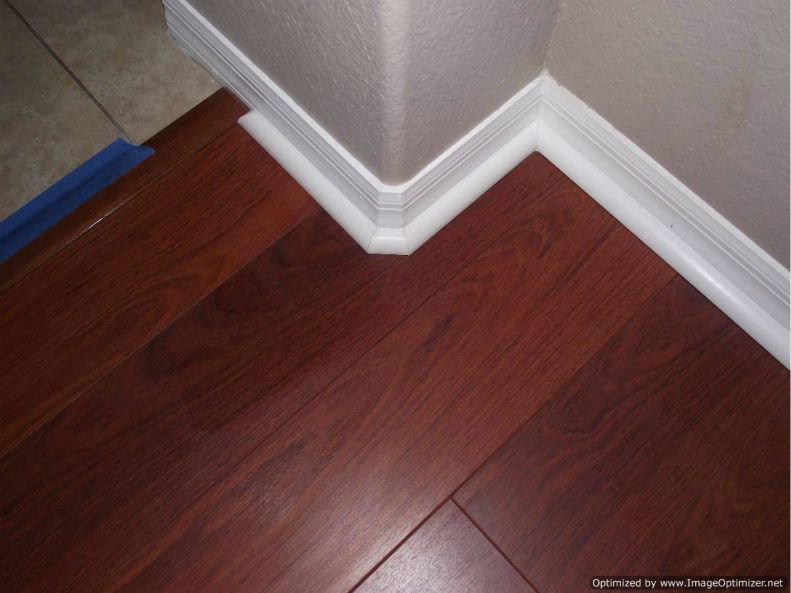 Return to Laminate Review Page From Quick Step Perspective Review Page
Return to Home Page