Pergo Elegant Expressions Review
This is my Pergo Elegant Expressions review based on me installing about 500 square feet in a mobile home. The color I installed here is Yorkshire Chestnut. I am pleased with this laminate flooring. It has the Pergo locking system, which makes it easy to install.
This particular laminate is called narrow strip at 5 inch wide planks, with a beveled edge. The surface is rated AC3. AC5 is the most durable. I can tell while working with this laminate that the surface is really tough. This Pergo Elegant Expressions is 10mm thick with an attached 2mm padding. It also has a lifetime warranty.
It is a little pricey though at almost 3.00 a square foot online.
I need to mention here that I installed this same Pergo Elegant Expressions in their living room and dining room about 4 years ago, and it looks as new as the day I installed it. So now I'm installing it in the two bedrooms and office.
I'm impressed at how the new flooring looks exactly the same as the older flooring I installed. I am kind of surprised that they even make the same product after all this time. Most manufacturers don't keep making the same product year after year.
I did take the time to line up the planks at the doorways. It looks a lot better than not doing this.
The way I did this is fairly simple. I used a string in the room that I installed in the past. I lined up the string on the joint for about 15 feet, then I extend it into the room I am going to install in.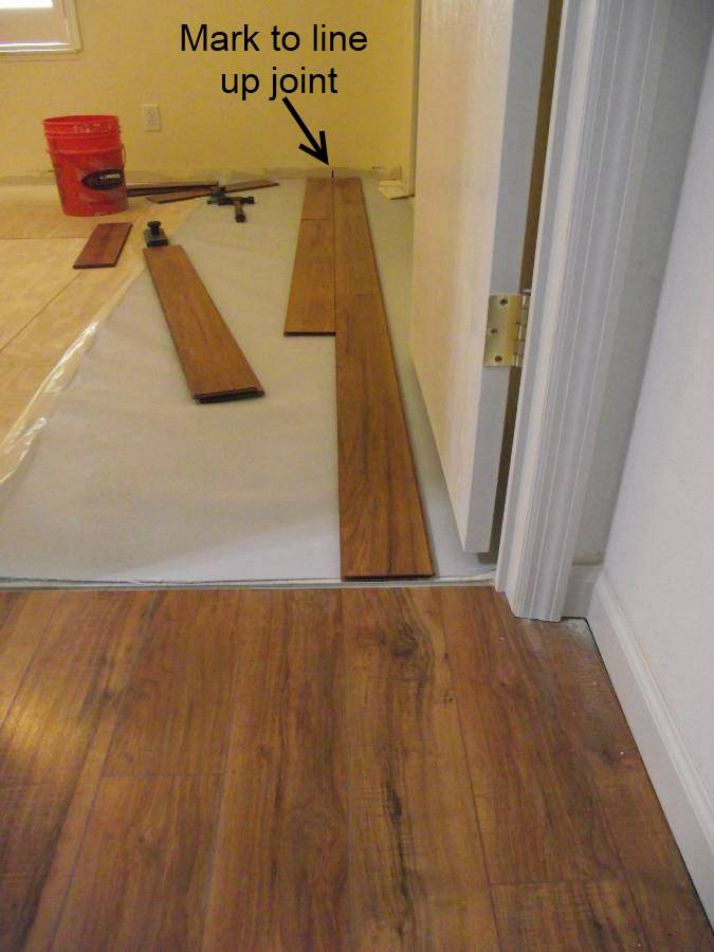 I make a mark at the far end of the room. This tells me where I want the joint to be.
After making the mark I install to the wall. Then I can install into the rest of the room. I keep an eye on the joint to make sure it stays straight.
This Pergo Elegant Expressions review is written based on the installation done in 2012.
Return to Laminate Reviews Page From Pergo Elegant Expressions Review Page